Pat Metheny Unity Group Concert @ Strathmore DC + My 15-seconds of Fame
By Sean Fenlon on March 22, 2014
---

I alluded to this concert in the blog post of the San Francisco show I saw three weeks to the day earlier:
http://patmethenymusic.com/2014/pat-metheny-unity-group-concert-the-warfield-in-san-francisco-set-list/
The first difference I noticed between the two shows was the middle of the bell curve in terms of average age of the audience — I went from being grandpa (in San Fran) to being the young whippersnapper.  I also noticed the contrast between the high-brow/high-society venue of Strathmore as compared to the much smaller hippie rock hall that is The Warfield.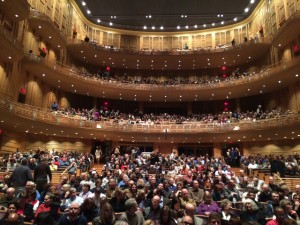 Same as San Fran, we had front row tickets.  However, this time we had 6 (not just two) and the other four seats were eagerly used by Joey Liner, Kyle Coughlin, Bob Blubaugh, and Nguyen Le.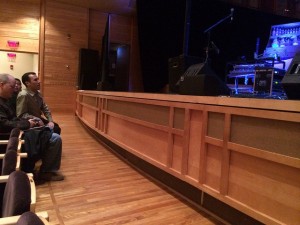 This show started a few minutes earlier — 8:10PM as opposed to 8:15PM — and ended almost 20-minutes earlier — 10:40PM as opposed to 11:00PM.  Thus, the DC show was a net 15-minutes shorter than San Fran — I can explain the difference in the set list highlights below.
Pat Metheny Unity Group Concert at Strathmore Set List:
Pat Solo on Pikasso Guitar – Impromptu Fantasy — I did not identify any recorded tunes — sounded 100% extemporaenous
Pat was then joined by the member of the Unity "Band" (which is the "Group" minus Giulio Carmassi)
"Come And See" from Pat Metheny Unity Band
Metheny begins on the Pikasso and then to Guitar Synth, Chris Potter begins on Bass Clarinet
"Roofdogs" from Pat Metheny Unity Band
Metheny to Acoustic
"New Year" from Pat Metheny Unity Band
James from Offramp
PM Talk — explains "Unity Band" vs "Unity Group"
Giulio Carmassi joins the stage
"Kin" from Kin (<—>)
"Rise Up" from Kin (<—>)
"Born" from Kin (<—>)
"On Day One" from Kin (<—>)
Band exits stage, except for Pat
"Bright Size Life" from Bright Size Life (Duet w/Ben Williams)
***This duet was "How Insensitive" in San Fran and "Bright Size Life" was performed by the full group in San Fran — this explains about half of the time difference.
"Tune Up" by Miles Davis (Duet w/Chris Potter)
This duet was "All the Things You Are" in San Fran. Still same experience though — unbelievable tempo of this timeless jazz classic — the melody was never presented — rather both musicians romped through the changes creating improvised counterpoint.
"Dream of the Return" from Letter from Home (Duet w/Guilio Carmassi)
This duet featured the vocal stylings of the newest member of the group — a classic Metheny tune originally sung by Pedro Aznar.
"(Go) Get It" from Trio 99>00 (Duet w/Antonio) – plus Drum Solo
This is the burner duet that was also highlighted on the Speaking of Now tour back in 2002
The rest of the band re-joins the stage
***This is where "Bright Size Life" was performed in San Fran, but not in DC.
***This is where "Sign of the Season" from Kin (<—>) was performed in San Fran, but not in DC. This explains the other half of the time difference between the two shows.
"Have You Heard" from Letter From Home
The first few notes of this selection brought noticeable cheers and howls of delight from the long-time Metheny loyalists, including my wife Terri.
ENCORE-1 – "Are You Going With Me" from Offramp
ENCORE-2 – Acoustic Guitar Medley — I heard at least seven tunes in the medley but the only ones I can remember for sure are "Phase Dance," "Minuano," "September 15," and "Last Train Home"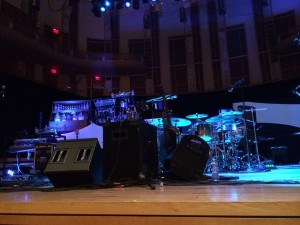 ——————————–
Now, my 15-seconds of fame was quite a unique experience.
Metheny has a long tradition with hand-claps.  The epic "First Circle" from First Circle begins with hand claps in 22/8.  This is the song that brought me into the Metheny circle back in the late 80's. It's not uncommon for both musicians and non-musicians of the Metheny faithful to clap their hands with the band during this opening passage in order to demonstrate their intimate knowledge of this complex rhythm and to feel at one with the band.
Kin features two hand-clapping tracks, "Rise Up" and "On Day One."
When the band played "Rise Up," I participated in the Flamenco claps in the opening.  I believe I was the only one in the audience to do so.  I don't know if it was courage or skill, but in all fairness to the non-clapping members of the audience, the recording has only been out for a couple months.  Being in the front row, my hand-clapping earned a smile and acknowledgement from bassist Ben Williams.
However, "On Day One" is a much more complicated clapping rhythm — at least in terms of the context of the meter and its rhythmic/metrical ambiguity.  When I joined the band hand-claps during this passage, I immediately drew the attention of Maestro Metheny himself who looked at me and shouted in my direction "YEAH!"  I continued accurately with the tricky hand-clap patterns and earned another "YEAH!" — this one even louder than the first.
For those 15-seconds, my heart raced — I was part of the Pat Metheny Unity Group. :–)
For musicians that would like to learn the clapping pattern, I copied my (marked up) excerpts from this passage below.  It's actually quite difficult and confusing to only rely on the score, but it's actually quite easy and simple to feel it once you've listened to it many times.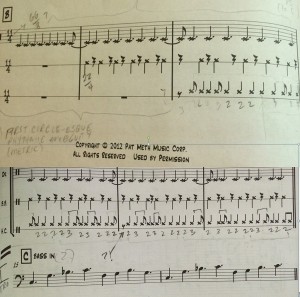 OK Metheny fans — I've done my part.  I've attended two Kin Tour concerts in the past 3-weeks, brought my wife front-row/center to both, and four of my closest friends to one.
I now ask you all out there that have not yet enjoyed this live show to learn this clapping pattern so that you can enjoy your 15-seconds of fame as a member of the Pat Metheny Unity Group the same way I did.
Unfortunately, my 15-seconds of fame did not yield me "Meet and Greet" status (again).  Hopefully, one day I will find a way to shake Pat Metheny's hand again and thank him for his unique inspiration.
Cheers.
SPF
---