Washington Post: Pat Metheny's band mates rise to the occasion at Strathmore
By Sean Fenlon on January 27, 2017
---
I am deeply embarrassed to have missed the first Metheny show in the area in over 25-years. :-O
Notwithstanding the piano sound engineering snafu, sounds like it was a show for the ages.
I'm very much hoping that this tour and performances of back-catalog yields a studio recording and another tour to promote the recording so I have a chance to fill this hole in my record of attending all Metheny performances in the front row.
I noticed that the Metheny group tour finishes in Ft. Lauderdale and Puerto Rico just a few days before: http://GroundUpMusicFestival.com/
The festival promotion provides constant reminders of "special" and "surprise" guest artists.
One cannot help wonder if the Maestro will return to his old late-teens stomping ground to jam with one or more of these amazing artists, including www.SnarkyPuppyMusic.com and www.JacobCollier.com. 🙂
SPF
---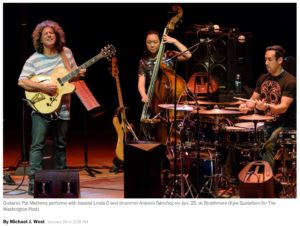 Washington Post: Pat Metheny's band mates rise to the occasion at Strathmore

Guitarist Pat Metheny performs with bassist Linda Oh and drummer Antonio Sánchez on Jan. 25. at Strathmore
By Michael J. West By Michael J. West
January 26 at 3:28 PM
Pat Metheny does not easily yield the spotlight. The guitarist works in multiple genres, across multiple guitars, from Gibson "archtop" and nylon-string to guitar synthesizer and the unique 42-string Pikasso. It's hard to turn attention away from him, no matter who he's playing with.
Which makes it quite significant that at Strathmore Music Center on Wednesday night, the contribution of his side musicians was hard to overstate. That wasn't the initial impression, with Metheny beginning the show with a dramatic, unaccompanied New Age piece on the Pikasso. But then pianist Gwilym Simcock, bassist Linda Oh and drummer Antonio Sánchez joined him onstage and the balance of musical power shifted remarkably. They not only kept up with the master, they did so for an astonishing, often exhilarating 2 1/2 hours.
---